Willys Overland Knight Registry
Whippet Model 96 Encyclopedia Book Review
Revised September 2001 - Now features 2 historic Movie Clips
Revised August 2003 - Now includes Model 96 Factory User Manuals & Handbooks
The Whippet Encyclopedia is the ultimate reference for the 1926 - 1928 Whippet Model 96 enthusiast, but will also appeal to owners of other models as the full Whippet range is covered, but with less detail than in the case of the Model 96.
The medium chosen for the book's distribution is the CD, or Compact Disk, as this provides for relatively inexpensive duplication and postage/shipping costs which would certainly not be the case if it was printed on paper. It also follows a worldwide trend that is seeing almost every household with a computer and magazines such as National Geographic making back issues available on CD.
It's called a Whippet Encyclopedia because it's a collection of facts, figures, pictures and stories that are all related somehow back to the Whippet. The use of hypertext links within the main text links all these topics together and allows the user to navigate, via simple mouse clicks, their way through all the facts and figures to items they find interesting.
It is intended to serve the purposes of both a quick reference guide with statistics and technical data as well as an historical narrative on the Whippet from conception to eventual replacement by the Willys Model 77. Four Dealer Training Films from the 1926 - 1927 period are also included on the CD as separate easy to use viewing programs that complement the already extensive set of topics included under Sales and Marketing.
Major headings divide the book into chapters of interest such as History, Body Styles, Production, Sales & Marketing, Technical Specifications, etcetera. These chapters are then subdivided further to give a second or even third level of resolution as to the content. Not all topics are listed in the contents listing and this has been done for reasons of clarity. If you need information on the dimensions of the brushes used in the second generation of starter motor you do not need its topic listed under contents, - instead you would choose Technical Specifications, then Electrical System, and then follow a hypertext link.
Although this may sound a bit complicated, the whole package is remarkably simple to use even for the complete novice to computers, whilst those who use computers all day at work will enjoy its advanced features which in addition to the usual search facilities, allow you to add bookmarks and even your own notes via an "Annotate" function.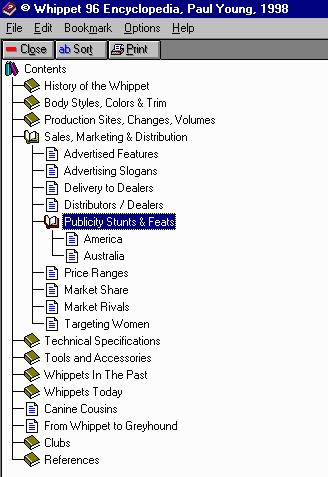 Index Topics can be easily expanded or collapsed at the click of a mouse button.
The software is suitable for PC's running Windows 3.11, 95, 98, ME, 2000, XP and NT and fitted with CD Drive. Windows Vista, 7, 8, 8.1, 10 require a download of winhlp32.exe and a change to the registry files to allow the index macro to run.
With over 118,000 words and 450 illustrations there is something for everyone !. This would be over 500 pages if printed and that doesn't count the 188 Film slides in the Dealer Training Films, nor the Manuals (Operation & Care, Repair), nor the handbooks (Handbook , Salesmans Confidential Handbook). All this adds up to what must surely be the most comprehensive set of documentation aimed at a specific model of vintage vehicle.


For further details please contact Paul Young, email willys1930@hotmail.com